residen

tial alteration

s + additions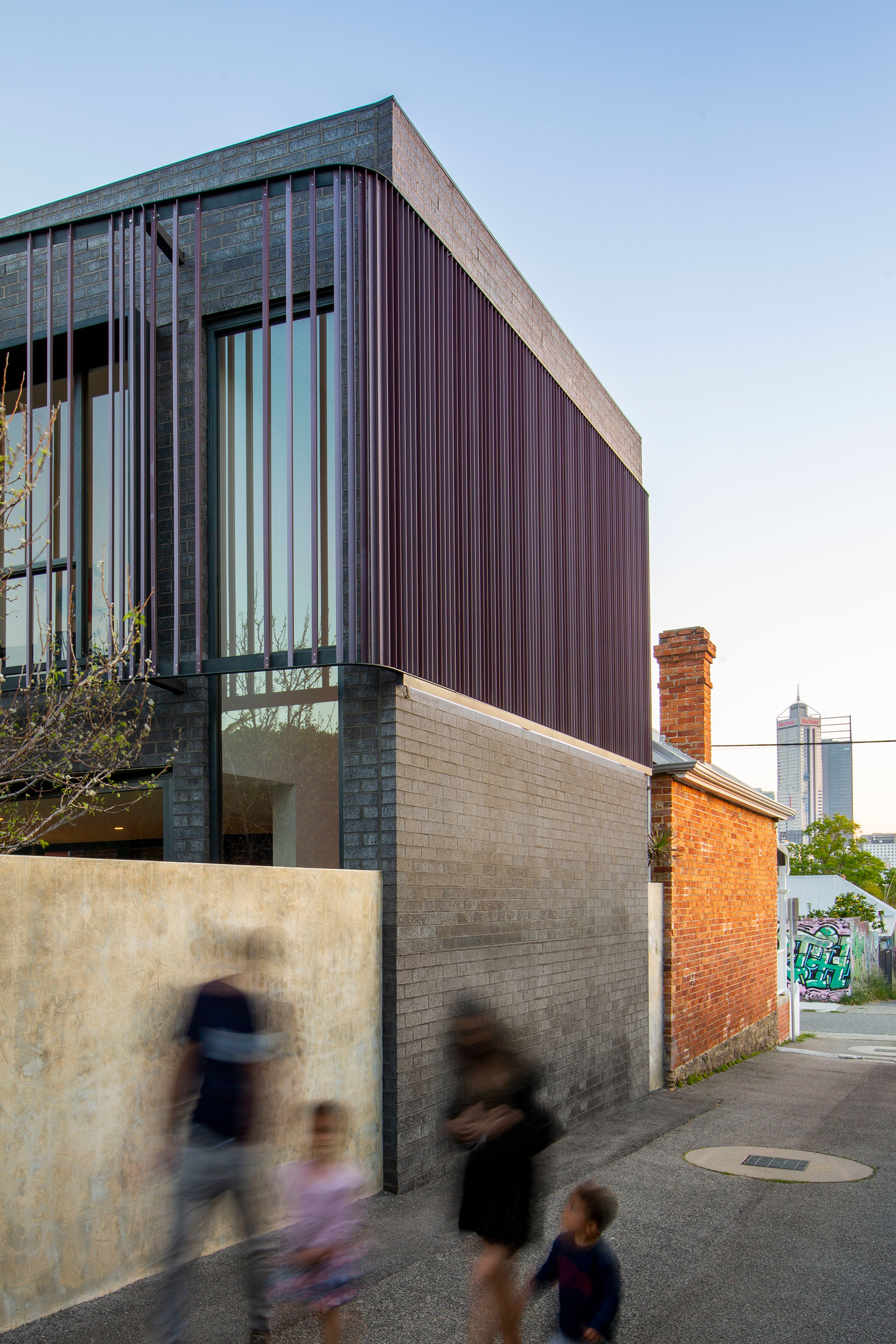 Traditional Custodians of the land

 Whadjuk people of the Noongar Nation
Location

 Perth


Construction value

 $1,095,000


Floor area

 287m2


Year completed

 2019
With sweeping views of the Perth skyline, the existing rundown and uninhabitable 1908 worker's cottage had been poorly maintained over the years, with many haphazard and structurally unsound additions. The brief was to strip back the property to reveal the original cottage and celebrate its character and proportions whilst creating an inner city family home.
The aesthetic strategy was for the additions to be in contrast to the existing cottage with clear separation between the new and old. A glass link flanked by landscaping separates the structures, with the old red face brickwork set off by the charcoal face brickwork of the new.
With the long axis of this site facing west, and the short axis facing north, the spaces were stacked behind the existing cottage across the short width of the site in order to face north exclusively. This led to a courtyard arrangement, with a single storey garage structure on the rear boundary so as not to obscure too much winter sunlight entering the interior spaces of the main house. The proportions of building mass not only supported a passive solar design response, but also complemented the scale of the existing cottage.
In restoring the cottage and reinstating its original features such as the bullnose verandah, the street frontage was opened up with a low height picket fence to promote a visual and social connection with the street. In contrast to the period restoration, new multipurpose Corian planter boxes also act as seats and balustrades to the front verandah, providing a glimpse of the contemporary additions to come.
To help break down the mass of the two-storey addition, and to enhance privacy of the first floor bedrooms, a veil of fixed aluminium angles in purple tones accentuate the form of the first floor which has been skewed to take greater advantage of the northern aspect. This skewed angle also provides an overhang to the ground floor glazing, protecting the interior from the summer sun. The first floor windows utilise horizontal and vertical sunshading devices to protect the glass from the north and west in summer, whilst allowing sun penetration in winter. These openings have also been located to promote cross-ventilation. The staircase void was located on the west boundary to protect the two storey volume from excess heat gain during summer, and to act as a chimney allowing hot air to rise up and escape.
The garage structure on the northern boundary has large expanses of glass facing south – mimicking the openings to the open plan area on the other side of the courtyard – doubling as a vintage car display whilst creating a pleasant workspace within the garage. The garage structure houses a planted roof, designed to reduce stormwater run-off and glare to the first floor bedrooms, and to keep the garage interior well insulated whilst providing a pleasant landscape that can be seen from the first floor as well as from surrounding properties.
+ WINNER RESIDENTIAL DESIGN ALTERATIONS + ADDITIONS OVER $800,000 AT 2021 BUILDING DESIGN AWARDS
+ WINNER RESIDENTIAL INTERIOR DESIGN AT 2021 BUILDING DESIGN AWARDS
+ WINNER RESIDENTIAL HERITAGE DESIGN AT 202

1 BUILDING DESIGN

AWARDS
+ WINNER RESIDENTIAL BATHROOM DESIGN AT 2021 BUILDING DESIGN AWARDS