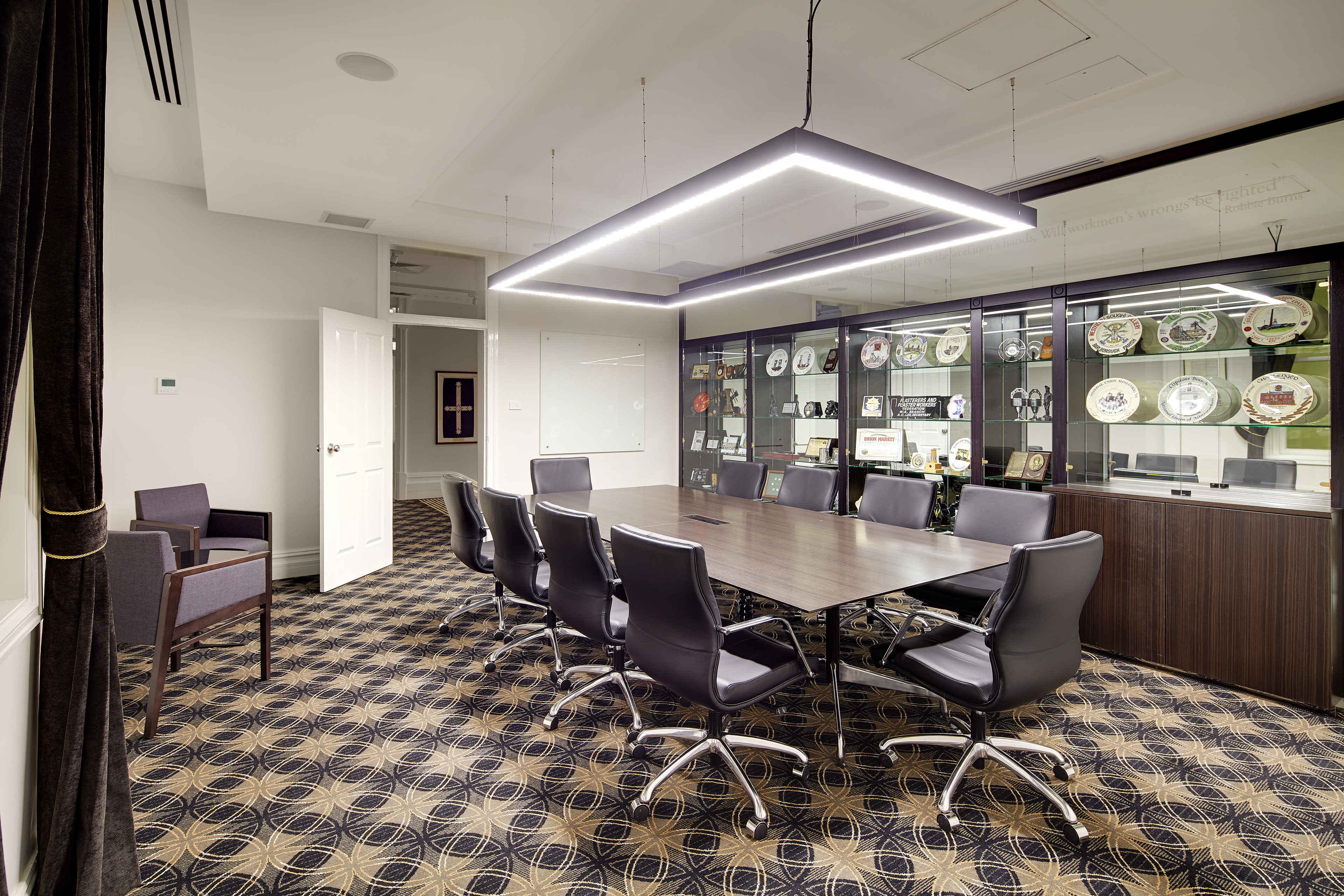 Traditional Custodians of the land

 Whadjuk people of the Noongar Nation
Location

 Beaufort, Street, Perth


Construction value

 $2,225,000


Floor area

 787m2


Year completed

 2013
Trades Hall was officially opened in April 1912 and remained in the hands of its original owners until 1985 when it was sold to Delaney Gallery's of Claremont. Added as a permanent entry to the Heritage Council of Western Australia's "Register of Heritage Places" in 2004, this building is of considerable importance in the history of WA. Late in 2013 the building was re-acquired by its original owners who, with unrivalled passion, committed to the rejuvenation of the building as their head office.

Our brief was to accommodate our client's modern day office environmental needs within this historic building whilst being respectful to the original fabric of the place. Prior to the construction of the new internal office environment, all traces of non-original partition walls, floor coverings and surface mounted electrical and communications ducting was removed before extensive restoration of the original Jarrah floors and main staircase commenced. New air-conditioning systems and electrical and data infrastructure was concealed within the existing ceiling and floor space to ensure a clean aesthetic was achieved.

The design aesthetic for the new interior is not juxtaposition, but a sympathetic, contemporary fusion that takes new construction methods and finishes them in such a way that they sit harmoniously with the heritage aspects of the place without competing with them. Prime examples of this are the new 4 metre high aluminium glazing frames used to form the new offices and meeting rooms that were coated with an aged bronze powdercoat, and the new carpet to the formal ground floor areas and main staircase which display a large decorative pattern that draws influence from a traditional carpet but with a more contemporary geometric pattern. This same pattern was replicated on the first floor glazing film to meet regulatory requirements, whilst on the ground floor a mixture of old and recent imagery of historical events in the client's history was applied to the internal glazing.

During the restoration works three original fireplaces were re-discovered as well as the locations of the original walls that had been demolished. The fireplaces were retained in their discovered condition whilst Corain slabs were inlaid in the floor to trace the locations of the original, demolished walls and introducing reference to the elements of the buildings history that had been lost over the years.

Finally, to further celebrate and bring to attention this fantastic heritage building to the people of Perth, decorative lighting was installed to the prominent western façade. These lights wash the entire first floor level and pick out specific features including the arched ground floor windows, original decorative ceiling to the main entrance and the roof top plasterwork. To top off the project a flagpole was reinstated centrally on the façade illuminated by spotlights, offering an insight to the building's occupants both day and night.
+ CONSERVATION AND RESTORATION CERTIFICATE OF MERIT AT CITY OF PERTH HERITAGE AWARDS 2014
+ COMMENDATION CORPORATE INTERIOR AT DIA WA DESIGN AWARDS 2014